introdução
A APAV tem, desde cedo na sua história, investido fortemente na promoção e desenvolvimento de Projetos. Parte integrante da estratégia da Associação em matéria de Investigação & Desenvolvimento, os Projetos constituem uma oportunidade de excelência para o trabalho em rede e de cooperação com as mais diversas entidades, quer do setor social quer dos setores público e privado.
Os Projetos revestem-se ainda de um caráter eminentemente inovador na medida em que permitem à APAV estar na vanguarda em termos de procedimentos e boas práticas, bem como de adquirir e aprofundar continuamente o conhecimento sobre as vítimas de crime e de violência.
Neste website dedicado a Publicações & Projetos, terá a possibilidade de conhecer os projetos que a APAV tem vindo a promover desde 1998, bem como publicações, websites e os mais diversos materiais desenvolvidos no âmbito dos mesmos.
From very early on, in the history of APAV, a lot was invested in the promotion and development of projects. An essential part of the Association's strategy for Research and Development are the projects that provide excellent opportunities for working and networking with a variety of entities, ranging from the social sector to the public and privet sector.

The projects have an outstanding innovative character that allow APAV to be a pioneer in terms of procedures and good practices in addition to gaining and continuously deepen the knowledge about the victims of crime and violence.

This page is dedicated to the Projects and the Publications that APAV have been promoting since 1998. Here you will have the chance to get to know the projects and publications in more detail and explore their outcomes.
Projecto em destaque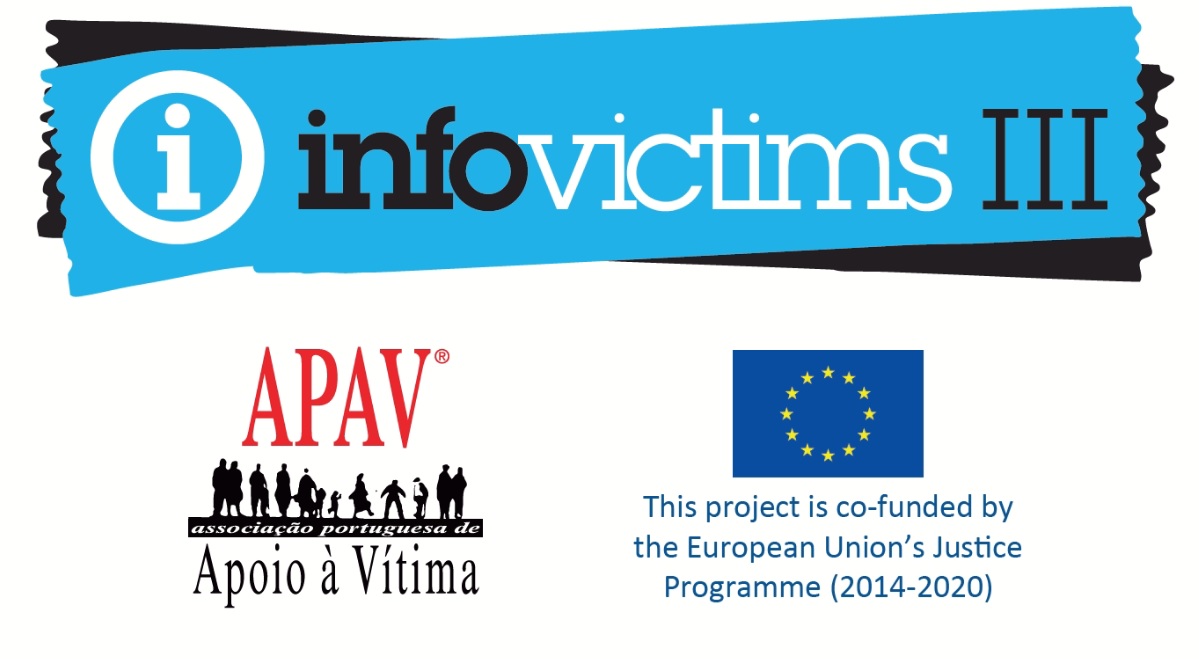 O direito à informação é o alicerce dos direitos das vítimas, uma vez que da garantia deste depende o beneficio pleno, por parte das vitimas de crime, da totalidade de direitos que lhes são concedidos a nível nacional e europeu. Paralelamente, o sistema de justiça criminal é, na maioria dos países, bastante complexo de compreender para o cidadão comum e utiliza uma linguagem quase própria.
Tendo estes dois pressupostos em mente, a APAV iniciou uma jornada, com 11 anos já percorridos, no sentido de tornar a informação acessível uma realidade para todas as vítimas de crime. Assim nasce o projeto Infovítimas I, em 2011, sobre o mote de contribuir para a quantidade e qualidade de informação disponível às vítimas de crime e à sociedade em geral sobre o sistema de justiça criminal, os seus direitos e como exercê-los.
As ferramentas desenvolvidas no âmbito do projeto Infovítimas foram pensadas de modo a que a informação pudesse ser disponibilizada em diversos formatos e, assim, alargar o seu alcance a diferentes grupos alvo. Como tal, os materiais Infovítimas podem ser encontrados online – através do website e da app – e em formato físico, através das brochuras, posters, cartazes e folhetos. O website Infovítimas conta também com versões inclusivas para pessoas com deficiência visual ou auditiva. Estes materiais receberam o reconhecimento, por parte da Comissão Europeia, como uma boa prática na provisão de informação às vítimas de crime.
Em 2020, através do cofinanciamento do Programa de Justiça da União Europeia (2014-2020), a APAV desenvolveu o projeto Infovítimas III. Nesta terceira edição, o modelo Infovítimas foi melhorado e expandido: os novos parceiros adaptaram os materiais Infovítimas às suas realidades, enquanto que os parceiros que já nos acompanham desde o inicio desta jornada atualizaram e aprimoraram os materiais já desenvolvidos nas anteriores edições do projeto.
O projeto Infovítimas III conta com parceiros oriundos da Alemanha, Grécia, Irlanda, França, Itália, Lituânia, Polónia e Republica Checa. Estes países juntam-se à comunidade Infovítimas, onde a informação sobre os direitos das vítimas de crime é disponibilizada de forma acessível e inclusiva, numa linguagem simples e clara.
Para mais detalhes, clique aqui.

The right to information is the cornerstone of victims' rights as it is contingent upon its full exercise that a victim may become aware of and benefit from the set of rights established at EU and national level. Furthermore, the criminal justice system is, in most countries, quite complex to understand for the common citizen and uses almost a language of its own.
Bearing these two assumption in mind, APAV started a 11 years' journey of making information on victims' rights a reality for all victims of crime. So was born the project Infovictims I, in 2011, under the mission of contributing to the quantity and quality of information available to victims of crime and to society in general about the criminal justice system, their rights and how to exercise them.
The tools developed within the scope of the Infovítimas project were designed so that information could be made available in different formats and thus extend its reach to different target groups. As such, Infovictims materials can be found online - through the website and app - but also in physical format, through brochures, posters, posters and leaflets. The Infovictims website also has inclusive versions for people with visual or hearing disabilities. These materials have been honourably recognised by the European Commission as a best practice in informing victims of crime.
In 2020, with the financial support of the European Union's Justice Programme (2014-2020), APAV developed the project Infovictims III. In this third edition, the Infovictims model was improved and expanded: new partners adapted the Infovictims materials to their realities, while long lasting partners updated and enhanced the materials already developed in previous editions of the project.
The project Infovictims III gathers partners from Germany, Greece, Ireland, France, Italy, Lithuania, Poland and the Czech Republic. These countries have joined the Infovictims community where information on the rights of victims of crime is made available in an accessible and inclusive way, in a simple and clear language.
For more details, click here.
Os projetos estão apresentados por ordem cronológica
---
Projects are presented in chronological order