introdução
A APAV tem, desde cedo na sua história, investido fortemente na promoção e desenvolvimento de Projetos. Parte integrante da estratégia da Associação em matéria de Investigação & Desenvolvimento, os Projetos constituem uma oportunidade de excelência para o trabalho em rede e de cooperação com as mais diversas entidades, quer do setor social quer dos setores público e privado.
Os Projetos revestem-se ainda de um caráter eminentemente inovador na medida em que permitem à APAV estar na vanguarda em termos de procedimentos e boas práticas, bem como de adquirir e aprofundar continuamente o conhecimento sobre as vítimas de crime e de violência.
Neste website dedicado a Publicações & Projetos, terá a possibilidade de conhecer os projetos que a APAV tem vindo a promover desde 1998, bem como publicações, websites e os mais diversos materiais desenvolvidos no âmbito dos mesmos.
From very early on, in the history of APAV, a lot was invested in the promotion and development of projects. An essential part of the Association's strategy for Research and Development are the projects that provide excellent opportunities for working and networking with a variety of entities, ranging from the social sector to the public and privet sector.

The projects have an outstanding innovative character that allow APAV to be a pioneer in terms of procedures and good practices in addition to gaining and continuously deepen the knowledge about the victims of crime and violence.

This page is dedicated to the Projects and the Publications that APAV have been promoting since 1998. Here you will have the chance to get to know the projects and publications in more detail and explore their outcomes.
Projecto em destaque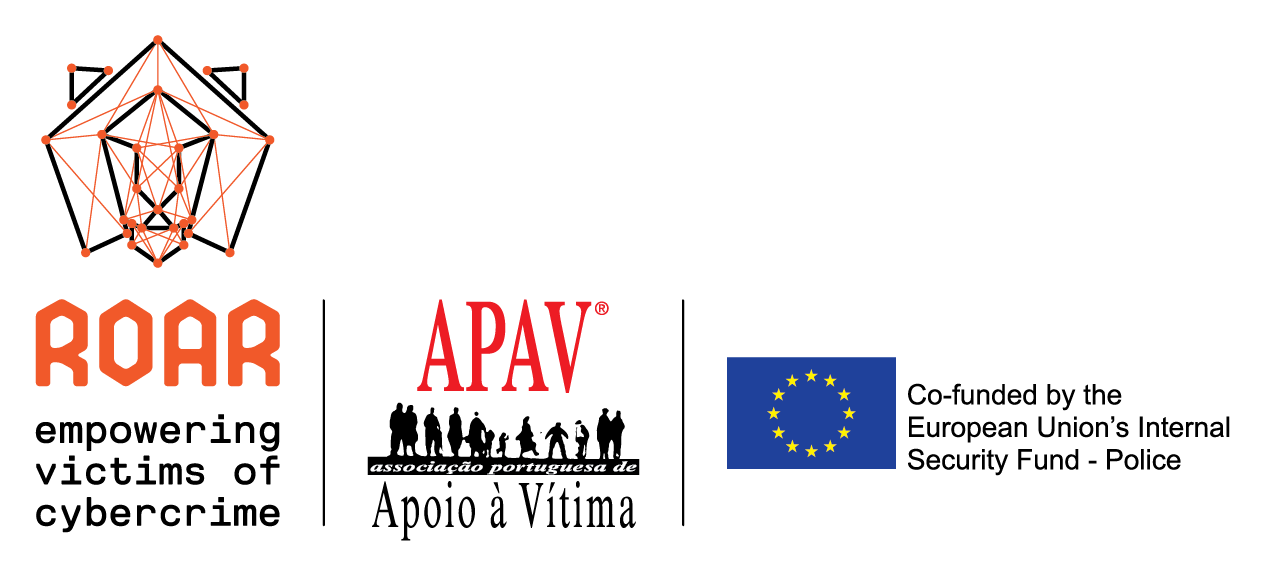 Estima-se que cerca de 1 milhão de pessoas são vítimas de cibercriminalidade por dia.
Com o objetivo de proteger, capacitar e apoiar as vítimas de cibercrime, o Projeto ROAR: empoderamento às vítimas de cibercrime foi desenvolvido pela APAV, em parceria com a Procuradoria-Geral da República, a Altice Portugal, a Guarda Nacional Republicana, Weisser Ring (Alemanha) e Equality and Human Rights Action Centre (Roménia) e co-financiado pelo Fundo para a Segurança Interna/Polícia da União Europeia.
Durante a execução do projeto, foram realizados workshops temáticos para as forças de segurança e autoridades judiciárias, com o objetivo de chamar a atenção para o problema do cibercrime e para a necessidade de proteger também as vítimas destes crimes. A fim de capacitar e sensibilizar potenciais vítimas de crimes eletrónicos, o aspeto pedagógico do projeto levou a cabo ações de formação para crianças e jovens, distribuindo materiais informativos.
O resultado de todas estas ações culminou na elaboração de um Manual de Procedimentos a adotar em caso de assistência às vítimas de crimes cibernéticos, um Manual de Formação, também dirigido aos profissionais que intervêm com a problemática e ainda um Policy Paper, com um conjunto de recomendações para ajudar a esclarecer eventuais questões e facilitar o trabalho de campo.
Acreditamos que todos e todas podemos desempenhar um papel no trabalho de prevenção para combater as situações de cibercrime, sendo o presente Manual um exemplo de boa prática e de grande utilidade. Estaremos, como sempre, disponíveis para esforços conjuntos de capacitação de profissionais, de forma a contribuir para a prevenção e quebra da cadeia da cibercriminalidade.
Esta publicação foi desenvolvida no âmbito do Projeto ROAR: empoderamento às vítimas de cibercrime, um projeto co-financiado pelo Fundo para a Segurança Interna/Polícia da União Europeia e promovido pela APAV, em parceria com a Procuradoria-Geral da República, a Altice Portugal, a Guarda Nacional Republicana, Weisser Ring (Alemanha) e Equality and Human Rights Action Centre (Roménia).
O conteúdo deste projeto representa apenas a opinião do autor e é da sua exclusiva responsabilidade. A Comissão Europeia não aceita qualquer responsabilidade pela utilização que possa ser feita da informação contida.
Para consultar os materiais, clique aqui.
It is estimated that about 1 million people are victims of cybercrime every day.
Aiming to protect, empower and supporting victims of cybercrime, the ROAR project was developed by APAV in partnership with institutions from two other European countries, namely the German WEISSER RING and the Romanian ACTEDO, in addition to the national partners, Altice Portugal, the Attorney General of the Republic (PGR) and the National Republican Guard (GNR) and funded by the European Union's Internal Security Fund – Police.
During the project execution, thematic workshops were held for security forces and judicial authorities, with the purpose of drawing attention to the problem of cybercrime and the need to also protect the victims of these crimes. In order to empower and raise awareness of potential victims of cybercrime, the pedagogical aspect of the project carried out training actions for children and young people, distributing informative materials.
The result of all these actions has culminated in the preparation of a Procedures Manual to be adopted in case of assistance to victims of cybercrime, a Training Manual, also directed to professionals who intervene with the problem, and a Policy Paper, with a set of recommendations to help clarify any questions and facilitate the field work.
We believe that everyone can play a role in the prevention work to combat cybercrime, and this Handbook is an example of good practice and is very useful. We will be, as always, available for joint efforts to train professionals in order to contribute to the prevention and breaking the cybercrime chain.
This publication was developed under Project ROAR: empowering victims of cybercrime, a project co-funded by the Internal Security Fund/European Union Police and promoted by APAV, in partnership with the Attorney General's Office, Altice Portugal, the National Republican Guard, Weisser Ring (Germany) and Equality and Human Rights Action Centre (Romania).
The content of this project represents the views only of the author and is his sole responsibility. The European Commission accepts no responsibility for any use that may be made of the information contained therein.
To check the materials, click here.
Os projetos estão apresentados por ordem cronológica
---
Projects are presented in chronological order