introdução
A APAV tem, desde cedo na sua história, investido fortemente na promoção e desenvolvimento de Projetos. Parte integrante da estratégia da Associação em matéria de Investigação & Desenvolvimento, os Projetos constituem uma oportunidade de excelência para o trabalho em rede e de cooperação com as mais diversas entidades, quer do setor social quer dos setores público e privado.
Os Projetos revestem-se ainda de um caráter eminentemente inovador na medida em que permitem à APAV estar na vanguarda em termos de procedimentos e boas práticas, bem como de adquirir e aprofundar continuamente o conhecimento sobre as vítimas de crime e de violência.
Neste website dedicado a Publicações & Projetos, terá a possibilidade de conhecer os projetos que a APAV tem vindo a promover desde 1998, bem como publicações, websites e os mais diversos materiais desenvolvidos no âmbito dos mesmos.
From very early on, in the history of APAV, a lot was invested in the promotion and development of projects. An essential part of the Association's strategy for Research and Development are the projects that provide excellent opportunities for working and networking with a variety of entities, ranging from the social sector to the public and privet sector.

The projects have an outstanding innovative character that allow APAV to be a pioneer in terms of procedures and good practices in addition to gaining and continuously deepen the knowledge about the victims of crime and violence.

This page is dedicated to the Projects and the Publications that APAV have been promoting since 1998. Here you will have the chance to get to know the projects and publications in more detail and explore their outcomes.
projecto em destaque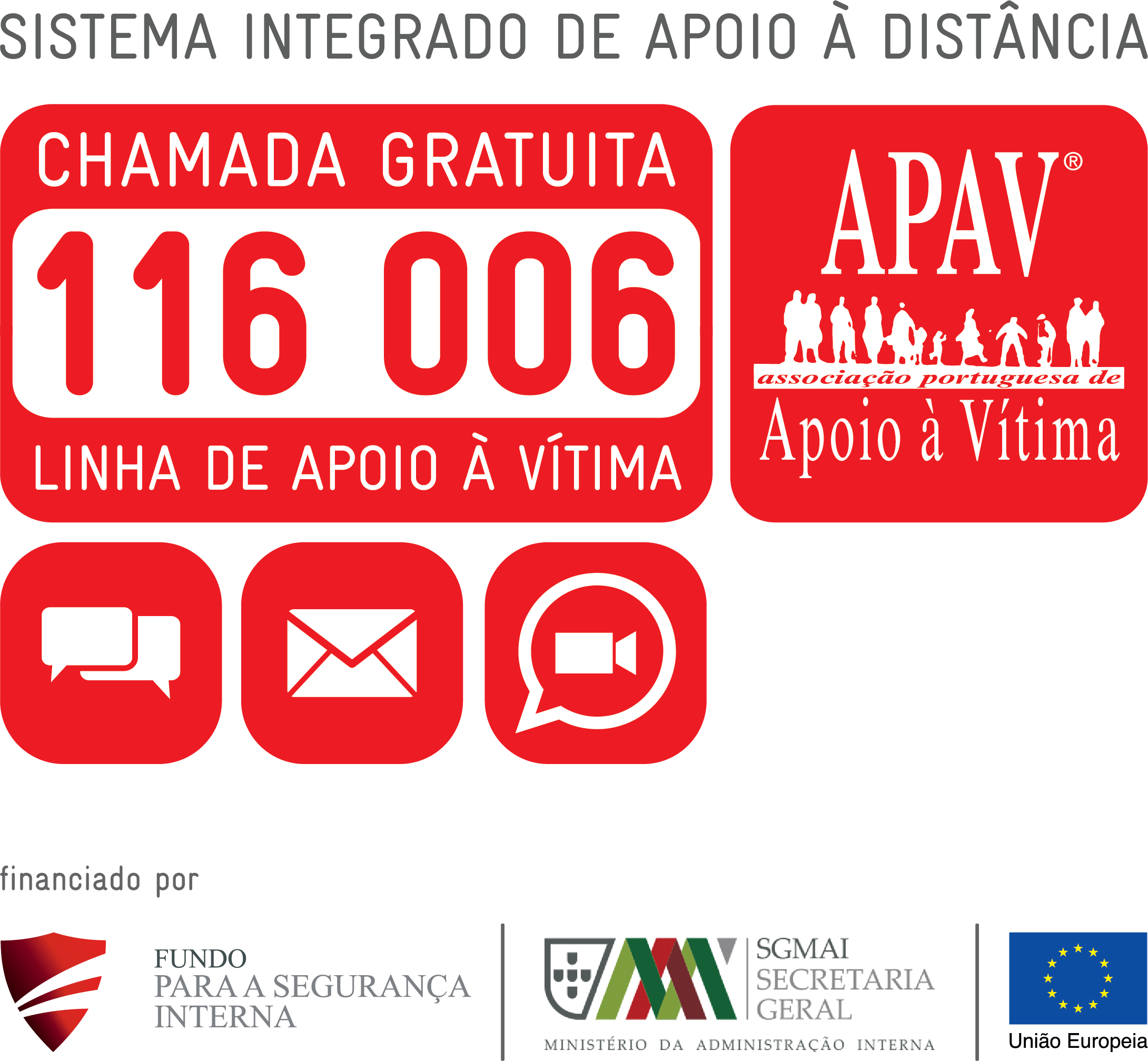 Num contexto de clara afirmação das Tecnologia de Informação e Comunicação (TIC) como meios de excelência para a procura de prestação de serviços de apoio à distância, e de crescentes de dificuldades de acesso presencial aos serviços de apoio em certas regiões do país, a APAV considerou premente o desenvolvimento de um modelo de intervenção que respondesse aos novos desafios e demandas da população vítima de crime.
Com o intuito de responder a estes desafios, a APAV consolida o Sistema Integrado de Apoio à Distância | SIAD, em linha com o Objetivo Nacional 4 – Apoio às Vítimas do Programa Nacional do Fundo para a Segurança Interna (FSI), qualificar e melhorar o apoio e proteção das vítimas e testemunhas de crime, garantindo-lhes um acompanhamento mais próximo e uma mais célere identificação de situações mais gravosas, de perigo eminente e até de risco de vida.
O SIAD é um sistema que integra, através de uma plataforma tecnológica de case management, o serviço de apoio telefónico da Linha de Apoio à Vítima da APAV, o apoio disponibilizado através das Redes Sociais e Videochamadas e o Serviço de Vídeo Intérprete de Língua Gestual (SERVIIN), em estreita relação e encaminhamento para os demais 63 serviços de proximidade da APAV a nível nacional.
O SIAD, informa, aconselha e apoia vítimas de crime, suas famílias e amigos de forma confidencial e gratuita, intervindo ao nível do apoio emocional, prático, na intervenção urgente e em crise, pelo que é maioritariamente através do SIAD que o/a utente efetua o primeiro contacto com a APAV.
In a context of clear affirmation of Information and Communications Technology (ICT) as an essential means for the demand for the provision of long distance support services, and of increasing difficulties in access to face-to-face support services in certain areas of the country, APAV considers crucial to develop an intervention model that can respond to these new challenges.
Therefore, APAV aims to reinforce the Integrated Distance Support System | SIAD, in line with National Objective 4 - Support to Victims, of the National Program of the Fund for Internal Security (FIS), to qualify and improve the support and protection of victims and witnesses of crime, guaranteeing a closer monitoring and swift identification of grave situations, imminent danger and even of life risk to victims.
SIAD integrates, through a technological case management platform, the APAV's Helpline (116 006), support provided through Social Networks and Video Calls, and the Sign Language Interpreter Service (SERVIIN), referring the cases to APAV's 63 proximity services at national level.
SIAD, provides information and free-of-charge support to victims of crime, their family members and friends, guaranteeing emotional and practical support, being the primary means through which victims reach APAV's support services.
Os projetos estão apresentados por ordem cronológica
---
Projects are presented in chronological order